This weekend found me back on top of the building. Friday was arguably the first uncomfortably hot day we've had this year, so while it was pretty lovely to be outside atop a breezy skyscraper, it was also really stuffy and hot in the elevator maintenance room where I'll be staging everything. My tasks this time were double checking measurements- that my cable runs are long enough, and that the frames I had to make light boxes would fit.

Hi, downtown!
I really love having permission to hang about in non-public spaces in such an interesting historic building.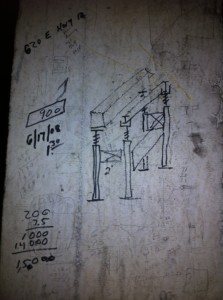 This is on a pillar in the maintenance room. I know it's dated 08, but it reminds me of my grandfather's workshop.

And this is the big steel structure supporting the building's iconic point.
The days are counting down now. I'll be spending most the rest of my work time on modifying the software, which is perhaps less picturesque.